2023: Talks and Workshops
Nature trail and observation based nature bingo, for 40 middle school students, VIBGYOR Summer Camp (Barvi Dam, Badlapur | 4 May 2023).
Waste management journey at HBCSE, webinar for 15 students of IISER Kolkata (Online | 20 March 2023)
Research and critical thinking, for 100 SYBSc/BCA students, organised by BMN College of Home Science, under UGC STRIDE Research Capacity Building Center, and in collaboration with HBCSE (BMN College, Matunga | 24 February 2023)
How to give a bad talk! for 100 postgraduate students and teachers, organised by BMN College of Home Science, under UGC STRIDE Research Capacity Building Center, and in collaboration with HBCSE (BMN College, Matunga | 16 February 2023)
Design thinking: Everyday Design and Design Everyday- Part 1 for 100 FYBSc/BCA students, organised by BMN College of Home Science, under UGC STRIDE Research Capacity Building Center, and in collaboration with HBCSE (BMN College, Matunga | 15 February 2023)
Introduction to critical thinking, for 100 SYBSc/ SYBCA students, organised by BMN College of Home Science, under UGC STRIDE Research Capacity Building Center, and in collaboration with HBCSE (BMN College, Matunga | 31 January 2023)
Sustainable travel: Stories from the field, for 100 students and teachers, Webinar organised by State Knowledge Management Centre for Climate Change, Government of Maharashtra (Online | 30 January, 2023)
Capturing better pictures with your smartphone', for 100 SYBSc/ SYBCA students, organized by BMN College of Home Science, under UGC STRIDE Research Capacity Building Center, and in collaboration with HBCSE  (BMN College, Matunga |  27th January 2023)
Sustainable travel: Stories from the field, for 100 students and teachers of Royal College of Arts, Science, Commerce and Management (Royal College, Mira road | 25 January 2023)
Design thinking: Everyday Design and Design Everyday- Part 1 for 100 FYBSc/BCA students, organised by BMN College of Home Science, under UGC STRIDE Research Capacity Building Center, and in collaboration with HBCSE (BMN College, Matunga | 24 January 2023)
Creative thinking: Imbibing creativity in your everyday life, for 100 SYBSc/BCA students, organised by BMN College of Home Science, under UGC STRIDE Research Capacity Building Center, and in collaboration with HBCSE (BMN College Matunga | 11 January 2023)
2022: Talks and Workshops
Introduction to creative thinking, for 180 FYBSc/BCA students, organised by BMN College of Home Science, under UGC STRIDE Research Capacity Building Center, and in collaboration with HBCSE (BMN College, Matunga | December 22, 2022)
Try your hand at Design Thinking, for 12 middle school students. VIPNET CLUB Webinar by Science Awareness Committee of Indian Women's Science Association in collaboration with Vigyan Prasar (Virtual | September 30, 2022)
Use and design of games for engagement with the sciences, for 10 undergraduate students, invited lecture for their course: 'Science as Muse: Intersections between Science and the Arts, Symbiosis School for Liberal Arts, SSLA, Pune. (Virtual | September 19, 2022)
Career trajectories after BSc Zoology, for 40 undergraduate and postgraduate students, orgranised by Department of Zoology, Ruia College (Ramnarain Ruia College, Matunga | 30 August 2022)
A glimpse of 21st century skills, for 25 middle school students. VIPNET CLUB Webinar by Science Awareness Committee of Indian Women's Science Association in collaboration with Vigyan Prasar (Virtual | August 9, 2022)
Creative thinking, for about 50 students of grade 6, Dr Homi Bhabha Young Scientist Enrichment Camp, organised by GBSTA-HBCSE ( HBCSE, Mumbai | June 9, 2022)
Creative thinking, for about 50 students of grade 9, Dr Homi Bhabha Young Scientist Enrichment Camp, organised by GBSTA-HBCSE ( HBCSE, Mumbai | June 6, 2022)
Chai and Why session on "Think, Draw, Create and Design", for 70 participants (Prithvi Theatre, May 1, 2022)
Design thinking: Design thinking process and problem-solving! for 100FYBSc/BCA students, organised by BMN College of Home Science, underUGC STRIDE Research Capacity Building Center and in collaboration with HBCSE (BMN College, Matunga | April 19, 2022)
Design thinking: Everyday Design and Design Everyday! for 100 FYBSc/BCA students, organised by BMN College of Home Science, under UGC STRIDE Research Capacity Building Center and in collaboration with HBCSE (BMN College, Matunga | March 10, 2022)
Exploring our questions (an introduction to research), for 100 SYBSc/BCA students, organised by BMN College of Home Science, under UGC STRIDE Research Capacity Building Center and in collaboration with HBCSE (BMN College, Matunga | March 9, 2022) [By Dr. Reema Mani]
Creative thinking: Imbibing creativity in your everyday life, for 100 SYBSc/BCA students, organised by BMN College of Home Science, under UGC STRIDE Research Capacity Building Center, and in collaboration with HBCSE (Virtual | February 25, 2022) [By Butool Abbas]
Learning to explore and investigate: An introduction to research, for 100 SYBSc/BCA students, organised by BMN College of Home Science, under UGC STRIDE Research Capacity Building Center, and in collaboration with HBCSE (Virtual | February 8, 2022)
Fact OR Fiction? How do you know? for 20 middle school students. VIPNET CLUB Webinar by Science Awareness Committee of Indian Women's Science Association in collaboration with Vigyan Prasar (Virtual | February 1, 2022)
Let's think out-of-the-box, for 100 SYBSc/BCA students, organised by BMN College of Home Science, under UGC STRIDE Research Capacity Building Center, and in collaboration with HBCSE (Virtual | January 20, 2022)
Introduction to creative thinking, for 185 FYBSc/BCA students, organised by BMN College of Home Science, under UGC STRIDE Research Capacity Building Center, and in collaboration with HBCSE (Virtual | January 18, 2022)
2021: Talks and Workshops
"Who am I? A design riddle", Founder's day special workshop for 10 participants, TIFR (Virtual | November 14, 2021)
Habitat and wildlife diversity in India, RUSA sponsored webinar organised by Environment Sensitization Committee on occasion of 'Wildlife Week', Dr BMN College of Home Science (Virtual | October 6, 2021)
Contemporary issues in Teacher Education, a session for for MA education students, (TISS, Mumbai, April 12, 2021)
Sustainable travel tales, Popular Lecture Series organized by Symbiosis Biodiversity Cell, Pune (Virtual | March 11, 2021)
Biodiversity and conservation, RUSA sponsored online webinar for 100 students, Dr. BMN college of Home Science (Virtual | February 3, 2021)
2020: Talks and Workshops
Designing academic posters – An overview, with graduate students, TIFR Hyderabad (Virtual | November 24, 2020)
2019: Talks and Workshops
Chai and why session on "Everyday design and Design Everyday", for 80 participants (D. G. Ruparel College, September 15, 2019)
Design and technology activities, for 20 undergraduate students of B. K. Birla College (HBCSE, June 14, 2019)
One month SSRD Summer Camp for 13 children (entering grade 7) (HBCSE, May 1-31, 2019)
Interact with nature, 100 students of class 6 Homi Bhabha Young Scientist Camp (HBCSE, April 13, 2019); and with 80 students of class 9 Homi Bhabha Young Scientist Camp (HBCSE, April 16, 2019).
Origami session, 100 students of class 6 Homi Bhabha Young Scientist Camp (HBCSE, April 12, 2019)
Science and society, for students of NTS (HBCSE, March 25, 2019)
Designing and making roller coasters, with 60 students of Grade 9, from Jawahar Navodaya Vidyalayas (HBCSE, January 16 & 18, 2019)
An interactive session on 'Not so known faces of Nobel Prize' with 60 students of Grade XI from Jawahar Navodaya Vidyalayas (HBCSE, January 16, 2019)
2018: Talks and Workshops
'Design and Technology' session with 60 students of F.Y.B.Sc. for NIUS Chemistry camp (HBCSE, December 30, 2018)
'Nature of Science' with 50 students of grade 9 and grade 10 for Junior Science and Mathematics Olympiad students (Atomic Energy Junior College, December 21, 2018)
An interactive session on 'Gender and Science' with 50 students of grade IX (HBCSE, December 19, 2018)
An interactive session on 'Design and Technology activities' with 20 post graduate and PhD students for 'Mumbai Science Talk' visit (HBCSE, December 5, 2018)
D&T exhibits and making activities (Thaumatropes, 3D pen, product evaluation), Frontiers of Science (TIFR, November 26, 2018)
Design workshop on package designing and bio-mimicry, with 18 students of Grade 11 from Modern High School for Girls, Kolkata (HBCSE, November 22, 2018)
'Nature of Science' with 60 students of grade 6 for Junior Science and Mathematics Olympiad students (Atomic Energy Junior College, October 26, 2018)
Urban solid waste management, for 120 undergraduate students, BMN College (Matunga, September 18, 2018)
Design thinking, with 10-15 students of grade 6, SSRD Summer Camp 2018 (HBCSE, May 28-31, 2018)
Designing rainwater harvesting systems, with 10-15 students of grade 6, SSRD Summer Camp 2018 (HBCSE, May 21-23, 2018)
Designing and making solar cookers, with 10-15 students of grade 6, SSRD Summer Camp 2018 (HBCSE, May15-18, 2018)
"Crafting birds", with 10-15 students of grade 6, SSRD Summer Camp 2018 (HBCSE, May 7-9, 2018)
Workshop on "Design Thinking", with 80 students of grade 6, Homi Bhabha Young Scientist Awardee Camp (HBCSE, April 16-17, 2018)
Learning unit on observing birds, with 15 middle school students, Vigyan Pratibha Workshop (HBCSE, January 16, 2018)
Learning unit on Adolescence and gender, with 15 middle school students, Vigyan Pratibha Workshop (HBCSE, January 16, 2018)
Observing and documenting bird behaviours, with 8 middle school students (M-ward Community Centre, Govandi, January 13, 2018)
2017: Talks and Workshops
Session on Design and Technology activities, for 25 students of grade 8 and 9, from Viveka Tribal Centre for Learning, Hosahalli, Mysore (HBCSE, November 23, 2017)
Six-day Workshop on "Illustrator and Indesign", for 25 undergraduate students,as part of their Bachelor of Design course. (NMIMS School of Design, October 6-12, 2017)
Science and society, for Junior Science and Mathematics Olympiad students (Atomic Energy Junior College, October 9, 2017
Session on "Structures and bridges", for students of grade 8 (HBCSE, July 31, 2017)
Gender, science and technology, Gender Sensitisation Programme, School of Biotechnology and Bioinformatics (D. Y. Patil College, Nerul, March 24, 2017)
Diversity in Indian classrooms for 100 D.Ed students (K. J. Somaiya Comprehensive College of Education Training and Research, Mumbai, March 10, 2017)
Summer Camps:
As part of the School Science Research and Development Project, every year during the summer vacation, we used to conduct a month long summer camp for primary and secondary school students. The objective of the camp was to help students relate their day to day experiences to what is taught in school (environmental science) and to help them develop communication skills through different modes, such as, drawing, writing, mapping, expressing oneself, gesturing and raising questions. Students were also introduced to sessions on design and technology, language, creative writings and other activities.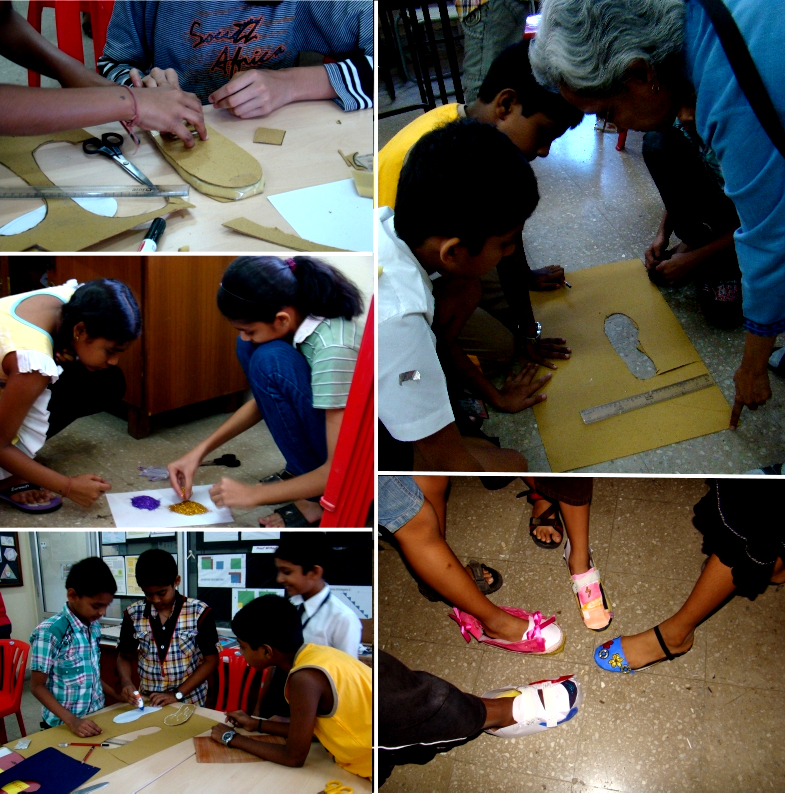 Workshops on D&T and 21st century skills (creativity, critical thinking, design thinking, etc)
We occasionally also organise student workshops in the area of design and technology and 21st century skills, which informs our research work. These workshops can be organised for school as well as college students.
If you are interested to participate in our workshop, or want us to conduct a workshop for students, or plan a visit to D&T laboratory or would like to brainstorm on similar lines, email us at dnte [at] hbcse [dot] tifr [dot] res [dot] in and we will get back to you.