Visits and Workshops
As part of the School Science Research and Development Project, every year during the summer vacation, we conduct a month long summer camp for primary and secondary school students. In May 2017, students going from grade 4 to 5 participated in the summer camp. In May 2018, students who will go from class 5 to 6, will be invited to participate in the workshop. The objective of the camp is to help students relate their day to day experiences to what is taught in school (environmental science) and to help them develop communication skills through different modes, such as, drawing, writing, mapping, expressing oneself, gesturing and raising questions. Students were also introduced to sessions on design and technology, language, creative writings and other activities.
Apart from this, we occasionally also organise student workshops in the area of design and technology, which informs our research work. Students studying between class 6 and 8 are preferred. There are no costs or eligibility criteria (marks /merit/ grades) to participate in these workshops. Depending on availability of resource persons, we can also conduct workshops for students from higher grades upto undergraduate level.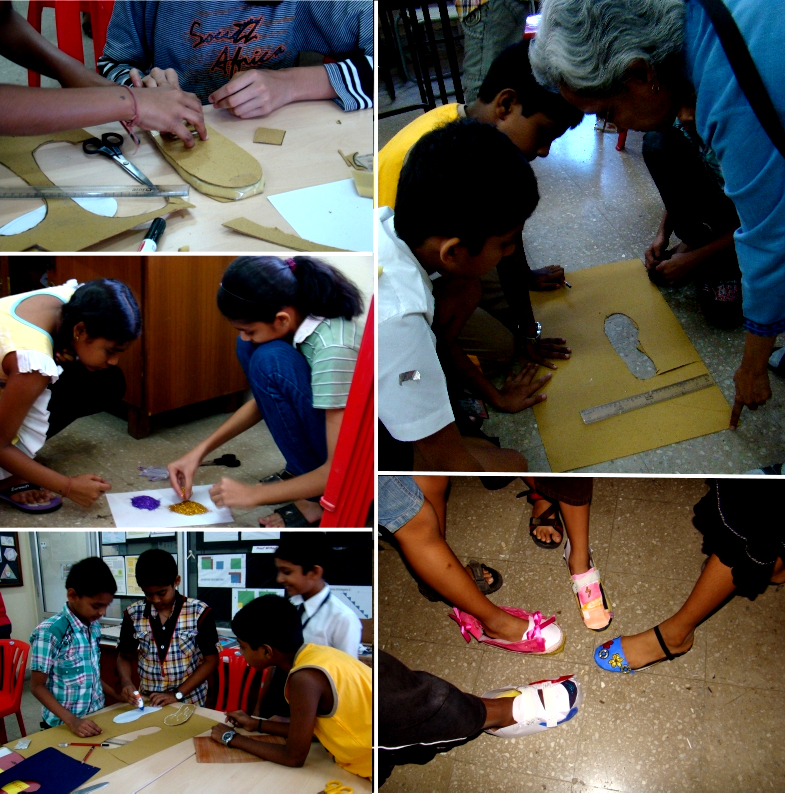 D&T workshop on "shoe-making",  April 2012
Keep watching this space for updates regarding student workshops.
If you are interested to participate in our workshop, plan a visit to D&T laboratory or would like to brainstorm on similar lines, email us at sugrac[at]hbcse.tifr.res.in and we will get back to you.
Recent student interactions (2017-18):

D&T exhibits and making activities (Thaumatropes, 3D pen, product evaluation), Frontiers of Science (TIFR, November 26, 2018)
Design workshop on package designing and bio-mimicry, with 18 students of Grade 11 from Modern High School for Girls, Kolkata (HBCSE, November 22, 2018)
'Nature of Science' with 60 students of grade 9 for Junior Science and Mathematics Olympiad students (Atomic Energy Junior College, October 26, 2018)
Urban solid waste management, for 120 undergraduate students, BMN College (Matunga, September 18, 2018)
Design thinking, with 10-15 students of grade 6, SSRD Summer Camp 2018 (HBCSE, May 28-31, 2018)
Designing rainwater harvesting systems, with 10-15 students of grade 6, SSRD Summer Camp 2018 (HBCSE, May 21-23, 2018)
Designing and making solar cookers, with 10-15 students of grade 6, SSRD Summer Camp 2018 (HBCSE, May15-18, 2018)
"Crafting birds", with 10-15 students of grade 6, SSRD Summer Camp 2018 (HBCSE, May 7-9, 2018)
Workshop on "Design Thinking", with 80 students of grade 6, Homi Bhabha Young Scientist Awardee Camp (HBCSE, April 16-17, 2018)
Learning unit on observing birds, with 15 middle school students, Vigyan Pratibha Workshop (HBCSE, January 16, 2018)
Learning unit on Adolescence and gender, with 15 middle school students, Vigyan Pratibha Workshop (HBCSE, January 16, 2018)
Observing and documenting bird behaviours, with 8 middle school students (M-ward Community Centre, Govandi, January 13, 2018)
Session on Design and Technology activities, for 25 students of grade 8 and 9, from Viveka Tribal Centre for Learning, Hosahalli, Mysore (HBCSE, November 23, 2017)
Six-day Workshop on "Illustrator and Indesign", for 25 undergraduate students,as part of their Bachelor of Design course. (NMIMS School of Design, October 6-12, 2017)
Science and society, for Junior Science and Mathematics Olympiad students (Atomic Energy Junior College, October 9, 2017
Session on "Structures and bridges", for students of grade 8 (HBCSE, July 31, 2017)
Gender, science and technology, Gender Sensitisation Programme, School of Biotechnology and Bioinformatics (D. Y. Patil College, Nerul, March 24, 2017)
Diversity in Indian classrooms for 100 D.Ed students (K. J. Somaiya Comprehensive College of Education Training and Research, Mumbai, March 10, 2017)